Making Digital Marketing Work Better
We make Digital Marketing work better for Saskatchewan based companies. From Search Engine Optimization (SEO) to website design and content improvement, we make websites work better. If your existing website is not performing up to your expectations, we can help. We can target your website to your market and improve the performance. Our Value Proposition to You – Leveraging the Web to help Small Business Compete Locally and Globally.
We bet that you will find this very attractive. Kyse on kuitenkin kovalla työllä ansaitsemistasi rahoista, joten haluat olla varma, ettei epäselvyyksiä tapahdu, • ongelmatilanteen osuessa kohdalle on helpompi asioida asiakaspalvelussa omalla äidinkielellä, • pelit ja/tai vedonlyöntikohteet ovat suunnattu suomalaisille pelaajille, • pelilisenssi takaa verottomat voitot, • bonukset ja edut on tehty suomalaiseen makuun. In August 2011, the company announced a multi-phase $25 million improvement program that would renovate the casino, hotel lobby, rooms and restaurants https://www.bestonlinecasinosnz.net/. They give inaccurate and harmful information, which spreads to other websites.
Digital Marketing Services
Digital Marketing is our catch-all terms for applying our online marketing expertise to help your website and your business perform better. Depending on the customer needs, we will help to implement a combination of service offerings including Search Engine Optimization, Search Marketing PPC Campaigns, Social Media, Analytics and Reporting, and Website Design or re-design. What needs to be implemented is determined through a comprehensive customer review and planning process. We want to implement the tools needed to grow your business, without loading you down with too much to handle. For some customers this consists of building a site with proper architecture with built-in Search Engine optimization. For other customers is may mean planning out and executing their entire online marketing presence from website design and management to social media integration and Google Ads PPC campaign management.
Galen Sonntag of Netnotic Marketing is a Google Ads Certified Professional. This certification requires the completion of a rigorous process where competence in using and managing the Google Ads program must be demonstrated, including passing several exams. The official certification can be validated by visiting the Google Certification Program page.
Link Building Certification
See our SEM Rush Academy Link Building Course Certification below: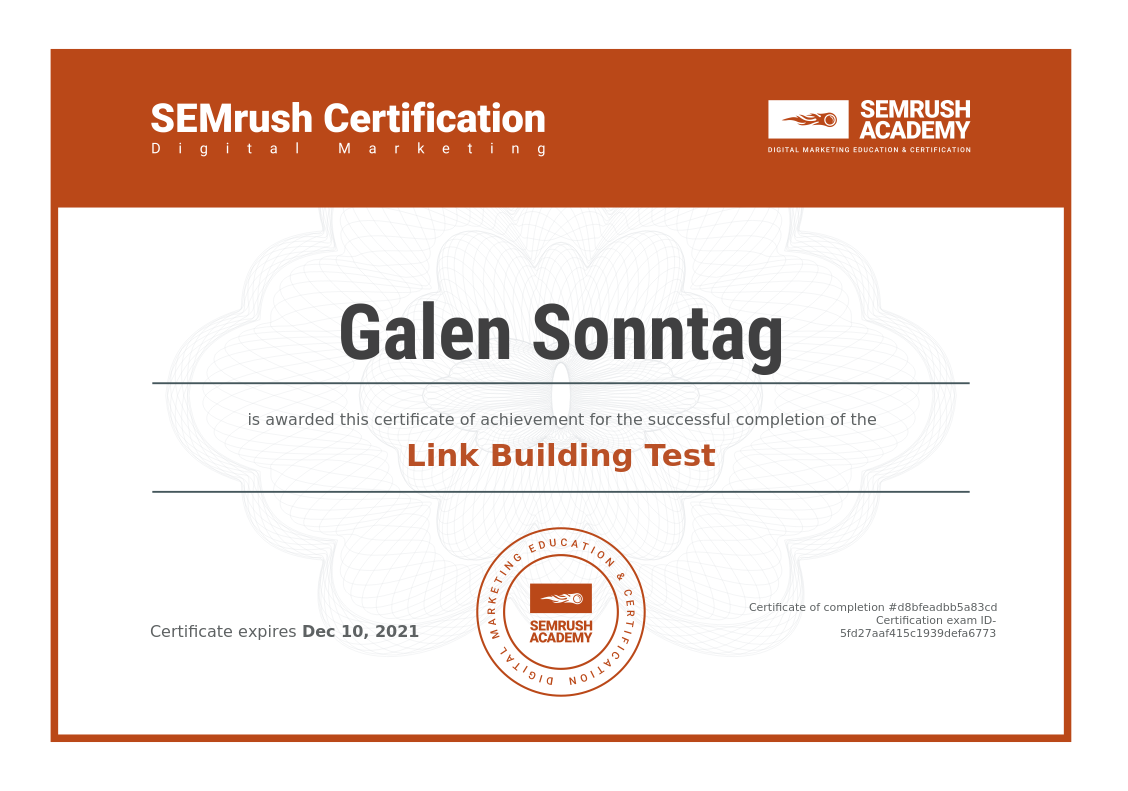 There are advantages to work with the most experienced digital marketing agency in the business. We've been through most every situation and scenario and we know how to overcome the obstacles to your business growth.

if you have any question?
Galen is a reliable, knowledgeable, and experienced marketing consultant. He is particularly adept at search engine optimization services. I collaborated with Galen on a recent website strategy project where he successfully provided SEO recommendations and AdWords campaign management that helped boost our client's new website traffic by 75% in the first week alone. I look forward to collaborating with Galen again.
- Harley Rivet: Deep Dish Digital
In an industry that the customer knows what they want, but no idea how to make it work! Our experience with Galen has been extremely valuable, ensuring today's design will work with our growth plans of tomorrow. E&M Real Estate group has had the pleasure of working with Galen on number of projects with a couple different clients. Galen has developed a product for our company that not only make us look great on the consumer side but has streamline our administrative process within the office. Truly a valued business relationship for E&M Real Estate Group and our team!
- Marty Edwards:

Sanoma Realty / E&M Homes